What a day!
10th Annual Lowcountry Buddy Walk
presented by Lucey Mortgage
This year's walk was months in the making. After years of a having paid coordinator fundraise and plan the walk, DSAL volunteers regained the helm in an effort to save valuable DSAL resources and to ensure confidence to our sponsors that this fundraiser required no administrative overhead. Planning meetings began in January and monthly meetings quickly became weekly as the date loomed closer. To all those who wished they had participated: we'd like to see you next year, hoping to have twice as many volunteers at our February kick off meeting!
This year the walk began with drums and guitars as the Dave Landeo Band performed on DSAL's event stage. Dave had a few planned and unplanned accompianists on stage and brought lots of instruments for the budding performers in the audience. Frank Antonelli performed Let Her Cry as if it were his own!
Of our 3,000+ participants this year nearly 1,000 were there not only to enjoy and participate but also to volunteer! We had students and alumni from Bishop England High School, Wando High School, Christ Our King, Mason Prep, Ashley Hall School, Moultrie Middle, St.Peters Church, Belle Hall Elementary, Summerville High School, Academic Magnet, Porter Gaud and the Citadel! These volunteers helped set up tents early the morning, passed out snow cones and painted faces through the day. Others manned the 8 jump castles to ensure safety in addition to many other jobs. The Knights of Columbus of James Island were on hand to serve lunch and there was no shortage of fruit thanks to Whole Foods and Publix on DI.
There were 37 teams registered on firstgiving.com,(click to see teams and ranking), who leveraged 129 fundraisers to raise nearly $9,000 for DSAL and NDSS. This is in addition to sponsor and registration monies. After the day of expenses our community raised over $28,000. 10% of monies go to NDSS to support research, congressional legislative efforts, and many national advocacy programs. This contribution is true for all Buddy Walks across the country.
In addition to our presenting sponsor Lucey Mortgage these sponsors were paramount in helping us put on the walk: Roper St. Francis Hospital, Wow network, The Hoove (t-shirts), Moore Family Dentistry, Benefit Focus, Carolina Eye Care, Dr. Randy, Talk Tools Therapy, Banks Construction, Carolina Arrhythmia, Daniel Island Real Estate, Draisin Vision, State Farm's Tony Pope, Coastal Kids Dental and Braces, Sweetgrass Pediatrics, Jersey Mikes, Palmetto Goodwill, Kids Teeth, Wells Fargo, East Cooper Medical Center and All Occasions Rentals gave us a generous 20% off on our tent rentals. The saying, it takes a village, comes to mind! In addition to our new DSAL logo, Emily Fuller of BirdE Design also created the Buddy Walk shirt and stage art! Thank you all!
Cheerleaders were a favorite this year with squads from Summerville, Wando, and Bishop England High Schools coming out in support. As cheerleaders spotted team names and signage, our friends with Ds were incorporated into cheers at the finish line. There were many proud moments this day, but the finish line was bittersweet.
It was an incredible and exhausting day and we can't wait for next year! -J.S.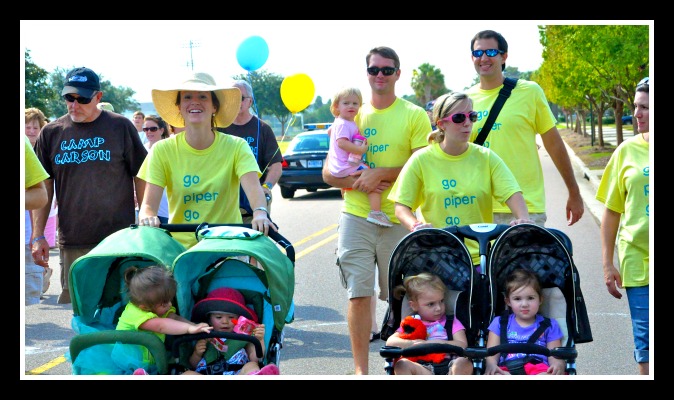 Team Piper