What We Do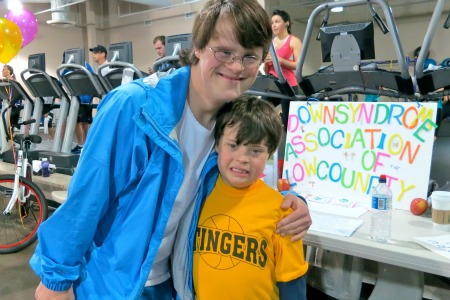 Each year Down Syndrome Association of the Lowcountry offers at least three member wide socials. Historically, there is a Spring Picnic, a summer party of some sort most often at a local water park, and a holiday party in the month of December.
In addition to these we have many more member initiated events and activities. There are mom nights out and Dad nights out as well. There are also many play dates and meet ups for the younger kids. With so many active community members, the skies the limit in terms of executing a get together. And if you have something in mind, let us know and as board we can help you get it off the ground.
There are also many educational opportunities, sometimes we'll just share the information that Family Connections is hosting something great. Other times we will pay to bring a speaker to the Charleston area. This year we are working to get Down Syndrome Education group (dseusa.org) in town.
Another great way to socialize with other parents is to join in a leadership capacity as a chairperson or being a volunteer for the enormous Buddy Walk effort! Our meetings are almost always at local restaurants and we always have a great time!
There are currently three camps held each summer. Buddy Camp in June for youngsters with DS and a typical buddy of their choice. ICanBike camp for kids and adults in July. And finally a swim camp hosted by area swim coaches and professionals. We also partner with the local rec department and Special Olympics of SC to promote other great local activities.
And finally, the first Sunday of each October is the Buddy Walk. We have one of the largest Buddy Walk events in the country in terms of participation and it is a beloved event by our families!