Summer Camp Opportunities
Finding the right summer camp experience for your child can be challenging. If your child has any sort of special needs, that challenge may increase. We wanted to provide a list of camps that either tailor their program to children with different types of needs or are typical camps which have provided a great experience for some of our DSAL members in the past. The camps listed here have been recommended by other DSAL parents, but please always do your own research to find the best fit for you and your family. 
If you need assistance paying for a summer camp opportunity, check out our Grants and Scholarship page for links to organizations that may be able to help. Some camps may have their own scholarships or payment assistance as well.
---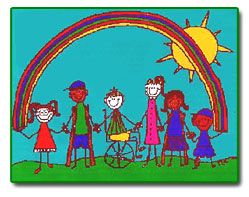 Camp Burnt Gin
Camp Burnt Gin is a summer camp in Wedgefield, South Carolina, for children who have physical disabilities and chronic illnesses. From early June until mid August, Camp Burnt Gin operates four six-day sessions for 7 through 15 year old children, two six-day sessions for teenagers, ages 16-20 and a four-day session for young adults, ages 21-25.
"We were anxious about sending my daughter to an overnight camp, but Burnt Gin was wonderful. The cabins are rustic but comfortable; the pool is amazing, and they swim twice a day; and they row on the lake, do crafts, and sing. All this is for children with a wide range of disabilities, so each person is assigned a counselor, and that counselor sleeps in the cabin with 3 girls or boys. It is age 8 and up and funded by the state. My only complaint is that my daughter has celiac, and we had to pack her food." 

~Kathleen Rogers, DSAL mother
---

YMCA Camp Greenville - Stargazers Family Camp
YMCA Camp Greenville with the Recreation District of Greenville County brings you a camp for families who have children with Down syndrome.
Spend a weekend at camp with a family camp atmosphere.  It will be a time for reflection, connections, and fun for the whole family. 
---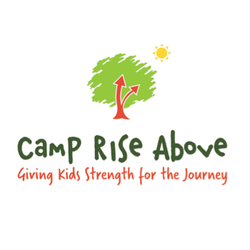 Camp Rise Above
Camp Rise Above is a two day camp held at James Island County Park for kids with Down Syndrome. Enjoy water park fun, paddle boating, fishing, archery, climbing wall, arts and crafts, environmental education, and more!
From Camp Rise Above:
Camp Rise Above is a unique non-profit organization that provides fun, life changing camp experiences to children with serious illnesses, life challenges, and disabilities. We believe all children deserve to experience the magic of childhood, regardless of their medical status.
The phrase we live by says it best: "Giving children strength for the journey."
We currently offer many programs for our campers and families throughout the year. All of our programs are provided free of charge so we don't add the financial hardship many families already face.

For more information, go to http://campriseabove.org/
---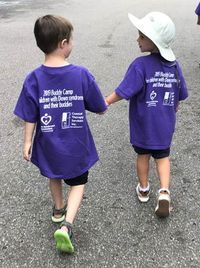 Buddy Camp
Buddy Camp is a day camp for our DSAL members with DS ages 3-8. Each camper will invite a typical friend to join them at camp. This friend can be a sibling, schoolmate, neighbor or any other friend close in age. Camp is usually held in June for four days (9 am to 11:30 am) with celebratory lunch on the final day (Thursday). Camp is typically hosted at Providence Baptist Church on Daniel Island (294 Seven Farms Drive, Daniel Island, SC 29492). 
Campers will enjoy music, crafts, and games all led by volunteers and the wonderful therapists from Coastal Therapy Services. Each pair of buddies will have a counselor to help the pair navigate the activities for the week. Camp invitations to register will be emailed to our membership in this age range when registration is open. Contact us if you have questions. 
---