News and What's Happening
2nd Annual Ride for Kids
The Down Syndrome Association of the Lowcountry and Ecofitness will host the 2nd annual Ride for Kids with Special Needs on May 3, 2014.
In 2013 Ecofitness teamed up with the Down Syndrome Association of the Lowcountry and raised $20,000 to fund I Can Bike, a nationally recognized camp for kids with special needs. 

This week long camp brought in a team of professionals with specialized training equipment. And with the help of 60 local volunteers 40 kids (some with Autism, Down syndrome and other gross motor delays) learned to ride a bike! Older individuals have a new means of local transportation. And all got a much-needed boost in confidence!



This year DSAL is planning a week long Climbing Camp at James Island County Park's climbing wall. We will commandeer the walls until noon each day for a week in June. 

Our hope is to recruit up to 50 participants from the special needs community, leveraging all 16 park staff belays for hour-long sessions. Climbing offers an amazing opportunity to strengthen the entire body and success can be experienced throughout the week with the help of belays. It will be a great way for youth to make new friends in their community and achieve a goal in a sport that's likely new to them. 

Please join us Saturday May 3rd in our second annual RIDE FOR KIDS, as we raise money and awareness for community members with special needs!

Want to Participate in the Ride?!
Go to http://www.firstgiving.com/rideforkids/2014-ride-for-kids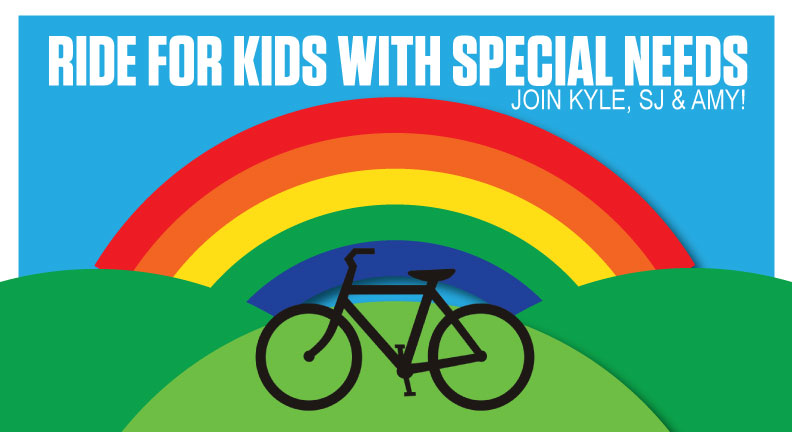 The program in only its second full year has already raised over a quarter of a million dollars for cognitive research being conducted at institutions like Johns Hopkins, Stanford and UCSD, and it is growing. Interest and participation across the country is helping RDS re-state public support for research that has the potential to develop therapies that will assist memory and learning in persons with Ds, and perhaps offset the increased likelihood of Alzheimer's disease.
For more information, see their website- http://www.researchds.org/
RDS runners has some teams for specific marathons, but people (like me) can elect to run a marathon--or half, in this case--and fundraise through crowdrise.com. I would like to invite anyone else in DSAL to do this with me for the Charleston whole or half! It's easy. See http://www.researchds.org/rds-runners/. You can make your own fundraising page and run (it would be fun to train together!) or contribute to mine: http://www.crowdrise.com/FoolsforJules/fundraiser/kathyrogers1.
Please feel free to email me at beresrogers@gmail.com with any questions, or if you'd like to run together!!
Best,
Kathy Rogers
Lotta Granholm-Bentley, Director for the Center on Aging
Dr. Bentley will be joining our DSAL meeting at 7 on Thursday January 9th:
Who am I? Lotta Granholm-Bentley, Director for the Center on Aging and MUSC Brain Bank.
The work in the lab is focused on both clinical and basic science studies regarding the aging process in individuals in Down syndrome. We recently got a grant from the Alzheimer's Association to study biomarkers in the blood that can predict if someone will get Alzheimer or not.
This study is done in collaboration with Harvard, Johns Hopkins, and Banner Health in Arizona.
Four years ago, we started a human brain bank at MUSC to help individuals with different neurological conditions in South Carolina. I am the chair for a national organization of research centers working together in this effort specifically for Down syndrome.
I would like to meet with the group to discuss our Brain Donation program, as well as preventive studies going on that your family member may benefit from. I would also like to help disseminate information from my national connections regarding what can be done now, and in our community to prevent dementia in people with Down syndrome.
Finally, I am also interested in prevention therapies in mothers of children with Down syndrome, since there is an increased risk of Alzheimer especially after a certain age.
All these studies are ongoing and we can work together in this effort.
I am very excited to work with your group on different aspects. I do not need blood or other tissues at this point, simply would like to urge people to sign up for the brain donation program.
http://academicdepartments.musc.edu/catalyst/archives/2013/11-29Alzheimers.htm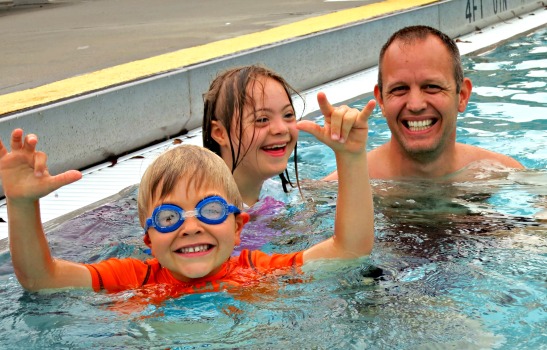 DSAL Summer Water Fun!
On Saturday August 24 dozens of DSAL families gathered at the James Island Splash Zone for a day of water park fun! I think we all feared the worst Saturday morning as rain clouds passed above the Lowcountry, but the weather held! The rain never materialized and the sun came out as subs were served for lunch! Gene Carpenter did a fantastic job coordinating this event and planning the lunch! It was great to see old friends catch up and new friendships begin! There were 4 new famlies to DSAL that attended. Some were new to the area and some were families with new babes! It was a beautiful day!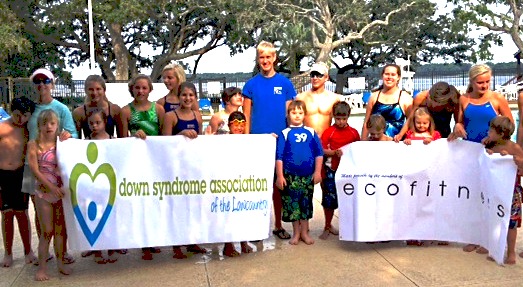 Swim Camp was held for the second year at Hobcaw Yacht Club thanks to the leadership of Mary Shaw! 15 campers with Down syndrome ages 7 to 15 enjoyed a nearly one to one ratio with swim buddy.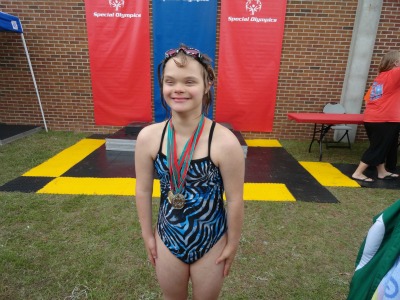 Elizabeth Carpenter has been selected to attend the Special Olympic National Games to be held June 2014 in Princeton, NJ. The SO National Games are held every 4 years at different locations around the country. Elizabeth was chosen based on her times from the SO State Games held at Fort Jackson in May 2013.
Elizabeth always loved the water and taught herself to swim at age 3 in the waves off of Sullivan's Island. She started swimming in Special Olympics at age 6 with the Smiling Sharks under the leadership of DSAL's own Cate Cusick. An athlete can train with a team but is not eligible to compete until age 8. She has competed in every summer game held at Fort Jackson since then - always bringing home a medal! After several years as a Smiling Shark, Elizabeth joined the Piranha swim team at the Mt. Pleasant Rec Department under Coach Shelli Davis. She also swims weekly with a coach, Jon Compton at the Rec Department. Elizabeth also swims in summer league with the Hobcaw Marlins.. Elizabeth is so excited about this amazing opportunity.
Courtesy of Gene Carpenter