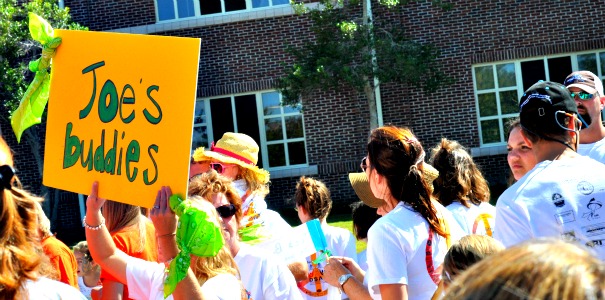 To register, create a team, and help raise funds for DSAL, go to our registration page (2020 Buddy Walk registration should open in May).
Registration includes armband for activities, lunch and t-shirt.  Families and friends affiliated with a team and pre-register will be able to receive shirts presorted on behalf of team participants early on Buddy Walk day (10am). Team 'leaders' will pick up shirts and armbands on behalf of their team members and spare everyone the lines. In the sign up process you will have the opportunity to indicate a team affiliation.
Buddy Walk officially kicks off at 12 noon. With live music and lunch being served on site.
Come to registration and get your armband and tshirt or if preregistered with a Team find your Team Tent among the semi circle on field.
Live music from event stage begins at 12 noon. Dave Landeo and also Trip and Trampus Hoover's bands will be performing along with other local artists.  (Trampus Hoover has Down syndrome and plays trumpet and guitar!)
Activities include 8 jump and obstacle castles, face painting, snow cones, and a crafting center with supplies for sign making and other walk related flair
As in previous years you can create a team in honor of your family member with Down syndrome. You can include information about your family member, as well as include pictures and videos. Creating a team is easy, and a great way to get your friends and family involved in this fun event. When you go through the event registration process you will have the option to join an existing team, create a new team, or register without joining a team.
Parking There are 620 spots available in the paved Bishop England High School lots however. (Thank you BE!) Over flow parking will be in surrounding DI neighborhood and at the Benefit Focus/T Mobile lots on Fairchild Street off Daniel Island Drive. We absolutely cannot drive or park on the grass at the walk/Etiwan Park, even when unloading team tents etc. Please plan accordingly.
ADDITIONAL DETAILS
Kids under 3 are free! But if you'd like them to have a shirt they must register.
Family members with Down syndrome are free but still need to be registered on first giving to receive a shirt. Select "Family member with DS" as drop down selection and fee will be waived.
We will have a water buffalo again this year so bring your refillable containers!
The walk route will begin on the field rather than on Seven Farms Drive and the band will lead us down the side walk and in to Etiwan neighborhood!
Be sure to read our Buddy Walk FAQs!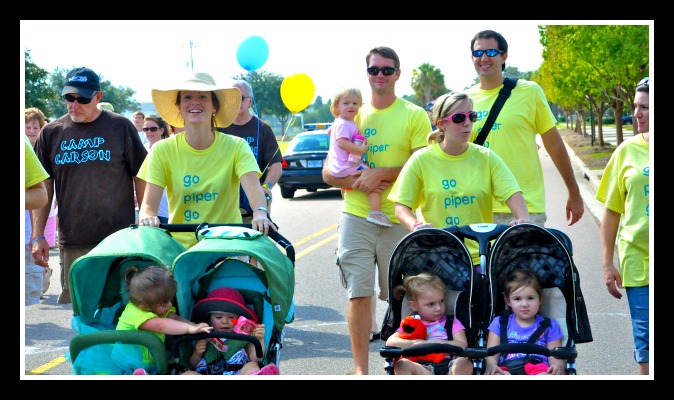 Team Piper
Team Piper has grown from 12 to 40 participants.   It's an incredible day and as our team grows I've realized how much this means to Piper's friends to be a part-but most folks won't know to come unless you ask/invite them! SO get on first giving and create a team! Raise money so that we can continue all the awesome events next year and ensure that our kids with Ds know they are loved and supported! -Julia Slattery