DSAL's Spotlight Member
The Down Syndrome Association of the Lowcountry would like to share the accomplishments and fun personalities of our members with you. Each month we will showcase one of our members and tell you a bit about them. If you would like to be a spotlight member or have your child showcased, please click the button below to submit your information to us!
---
DSAL's Current Spotlight Member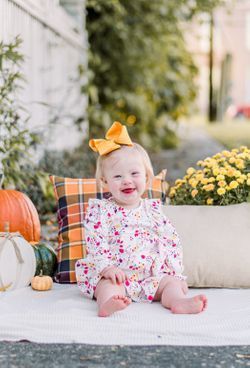 Kollynns Crozier
Age: 1
Parent's Names: Amber and George Crozier
Kollynns is 1 year old. She loves watching Barney, playing with toys, and chasing her pup Cabella. Kollynns is such a happy baby, but can also have a sassy side already. She says daddy, momma, and hey. She is pulling and standing up. We're so close to walking. She is very independent already. We are so in love with our girl and thank God for her everyday!
---
Previous Spotlight Members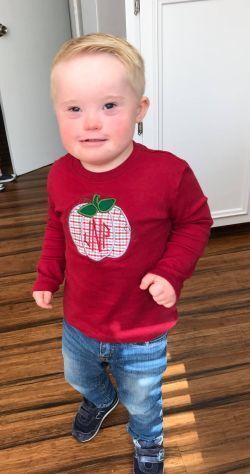 Jude Nichols
Age: 4.5
Member's Parent's and sibling's Name(s): Patrick and Gini Nichols, Sister- Eva Lee
Jude is a little boy with a BIG personality. He loves to sing and dance; you won't find a music genre he dislikes. He is a Disney movie buff and often acts out the scenes as they take place. It's a good thing we live in Charleston because his other love is water...he is learning to swim and holds his breath just long enough to make his parents nervous. Jude is in a 4K program in a public school where it's like a scene from Cheers...everyone knows his name (mama isn't sure if this is a good thing). Jude's speech is currently taking off and every day more and more intelligible words are coming.
---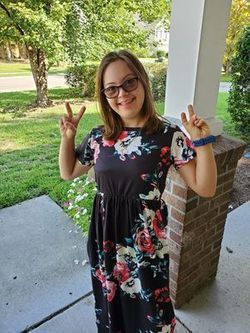 Kayla Helferich
Age: 16
Member's Parent's and sibling: Michelle and Joe; Brother: Lucas
Kayla is very outgoing and social; she doesn't know a stranger! Her favorite thing to do in the summer is going to sleep-away camps. She loves little kids and babies and wants to be a 'doctor's helper' when she's older. She loves coloring, dancing, singing, and watching plays at the Dock Street Theater. Kayla is a big fan of Disney's Descendants. She is active in drama/acting class, Special Olympics golf and track, Miracle League Baseball, and a local homeschool archery team.
---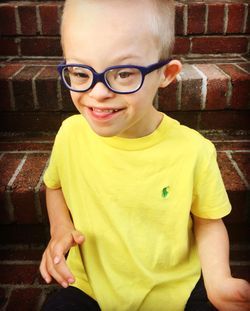 Parker Griffith
Age 6
Member's Parent's and sibling: Jill, Steven, and Kendall (sister)
Parker has graduated from Kindergarten and is on to 1st grade at Knightsville Elementary School in the Fall. He is a die hard fan of country music, classical piano, and the Netflix series, "Sarah and Duck." He particularly enjoys playing with bubbles, swimming in the family hot tub, and taking nature walks around the neighborhood.
---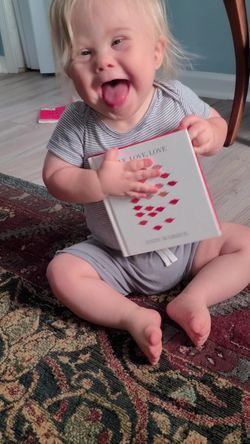 Ryder Clash Rawlings
Age 1
Member's Parents and siblings: Kelly and Mikee Rawlings, Alicia Niland, Cody Dixon, Mikala Rawlings, Kyle Dixon, Caleb Dixon, Cooper Dixon, Andal Rawlings
From Clash's mom: Clash just had his first birthday in March. He is 100% pure love and has only added happiness and joy to our lives and the lives of those he meets. He army crawls his way into EVERYTHING and is working hard at walking. Like so many, I wish we knew at 15 weeks pregnant what we know now, so we wouldn't have wasted so much time being afraid. He is an amazing addition to our family and without him our lives would not be complete.
---
William "Liam" Jacobs
Age 3
Parent's and sibling's: Brian and Laura, sister Ava
Liam loves playing in toilets and climbing on tables. His accomplishments include eating a whole can of Pringle's in one sitting. He's loving, has a hug and a kiss for anyone who wants one, and DEFINITELY has a stubborn streak. He loves school, Muppet Babies, and the bath!
---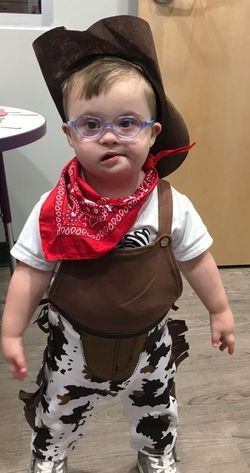 Jakob Jones
Age 3
Parents: Tom and Tabby
Jakob loves music and lights. He's started K-3. He's learning to feed himself. He's a fun loving little boy.
---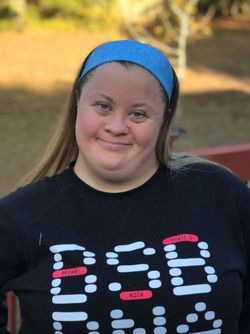 Trista Sue Kutcher 
Age: 30 
Parent and siblings: my mom Rebecca and my younger sisters are Suzanna (28) and Sammie (20)
I love to dance and I love to work out and I love to sew. I want to be a business woman and I started my business Trista's Sunshine Company. I sell things on my Instagram page @tristasunshinecompany every night at 7:00 and I want to have my own store one day and I want to start selling some of my things in other people's stores soon. I make dog bow ties, dog bandanas, headbands , tote bags, coasters, ornaments, fabric baskets and lots of Things. I have another Instagram that has 46,000 followers it is called @tristathebarista and I like to make people smile on it and show them my life and teach them about Down syndrome too! I love making dance videos so much! I am a barista at Bitty and Beaus and I am the community relations director.
---